Argan oil and products with 100% argan oil from Morocco
Argan oil is a 100% natural extra virgin organic oil, which is pressed in Morocco from selected fruits of the Argan nut. It is an extremely rare organic oil without preservatives.
Moroccan argan oil contains a high amount of vitamins and substances that contribute to the protection of the skin of the entire body and organism. Due to its strong regenerative, healing, anti-inflammatory and antibacterial effects, argan oil is also called liquid gold or Moroccan gold.
Berbers and local Moroccans have been using pure argan oil for centuries for cooking, healing, cosmetic purposes, skin care, hair, nails and as a substitute for most cosmetics and creams.
Organic argan oil Argavel from the family company Orient House contains 80% of essential unsaturated fatty acids, especially Omega 9 and Omega 6. Natural organic oil from Morocco has several times higher antioxidant potential than olive oil, which is also used in cosmetics. Argan oil contains carotenoids, phytosterols and squalene.
Cosmetic organic argan oil can significantly improve cell regeneration, help against infections, colds, reduce inflammation, stimulate blood circulation, and argan oil directly from Morocco also has a very beneficial effect on your skin and hair. After using the oil, the hair is soft and the skin is extremely hydrated.
Argan oil, which is produced directly in Morocco, is also characterized by an unusually high amount of vitamins A, E and F. We could say that the almost "miraculous" effects of this exclusively organic product contribute to your good health and protect your skin from the harmful effects of polluted life. environment and today's hectic times.
Due to its composition and taste, 100% argan oil is irreplaceable even in gastronomy. Culinary argan oil gives dishes a delicate nutty-sweet taste. It has a beautiful nutty aroma and is used as an addition to cold cooking so that the presence of vitamins and active substances in the oil is not reduced by cooking.
100% argan oil, which is imported for you by the Orient House family company directly from Morocco, is divided into two basic types according to the production method: cosmetic and food. These two types of organic argan oil are produced in a different way and differ from each other in addition to the production method, as well as in smell, color, use and, to a lesser extent, in the content of active substances.
Cosmetic argan oil is made by cold pressing, from selected fruits of the argania spinosa tree. After pressing, the oil is filtered at least three times through bio filters, which ensures the quality and purity of the oil.
Food-grade argan oil is made from selected fruits of the argania spinosa tree, which must be briefly roasted before pressing in order to soften the very bitter to unpleasant taste of the nuts, and then cold-pressed. After pressing, it is filtered twice through bio filters. The oil is intended for internal use.
100% organic oils are the highest quality natural products that we use to take care of our hair, skin, nails, skin and the whole body and they are an excellent substitute for many cosmetic preparations, which often save not only our skin but also our wallet.

natural vitamin E - alpha-tocopherol - fat-soluble vitamin. It is a strong antioxidant, protects against the action of free radicals, helps to maintain the optimal level of essential fatty acids and vitamin A in the skin. It significantly reduces inflammation and scarring. Organic argan oil contains 2-3 times more natural vitamin E than any other natural source.
natural carotenoids - vegetable pigments soluble in fats, protecting eyes and skin from UV radiation and the action of free radicals.
unsaturated fatty acids - a person obtains them only through diet or skin. They are building materials necessary for the good functioning of cell membranes, they are important for maintaining healthy skin and prevent moisture loss and premature aging.
natural phenols and phenolic acids
squalene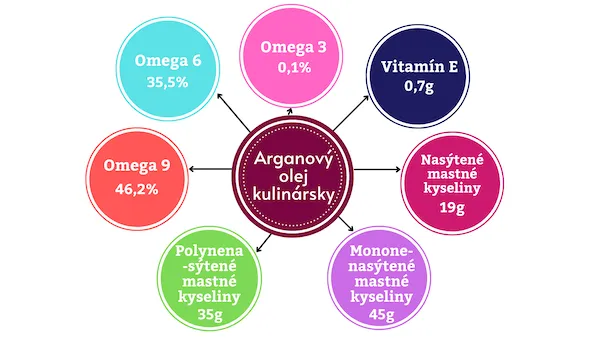 NOTICE:
REGULATION OF THE EUROPEAN PARLIAMENT AND OF THE COUNCIL (EU) no. 1924/2006 on nutrition and health claims forbids labeling the health effects of the product on products and places where the products are sold (e-shop). Therefore, according to this regulation, no other nutrition and health claims can be assigned to any food other than those permitted.
All information on nutritional and health claims listed on our website is only a set of information freely accessible from domestic and foreign sources and under no circumstances is it proof of the actual effect of the product or its nutritional and healing effects.
If the consumer wants accurate information supported by professional and scientific studies, it is important to get familiar with it through all available professional sources.