Prickly pear oil and its production from prickly pear cactus in Morocco
Production of prickly pear oil
Prickly pear oil, which we import for you directly from Morocco, is made from the seeds of the prickly pear cactus. It is not maceration in another oil, but a significantly higher quality and more demanding method of production by pressing prickly pear cactus seeds. The production of organic prickly pear oil takes place in a women's Berber cooperative run by the Errais family business.
The Errais family company produces all of our natural oils, which we offer in organic quality, and the production itself takes place under strictly hygienic conditions in a controlled environment. The production uses the highest quality prickly pear cactus fruits, which grow and are harvested directly in Morocco.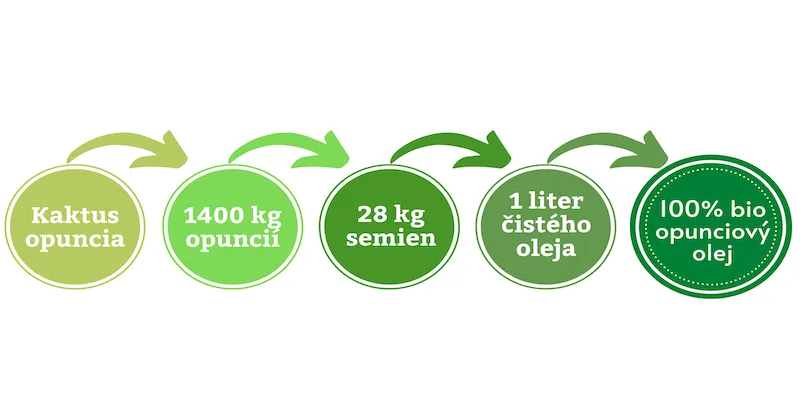 Collected healthy and ripe prickly pears are split in half, small seeds are taken out from them, which are cold-pressed. Approximately 28 kg of pure pressed seeds are used per liter of prickly pear oil, which come from 1400 kg of prickly pear (cactus) fruits.
The seeds themselves are very dry, which is the main reason why so many prickly pears are needed. Original 100% prickly pear oil, which is made from seeds, is very rare and every drop of oil has amazing effects.
Prickly pear oil is pressed directly in Morocco immediately after the fruits are harvested to maintain the highest quality of the oil. After pressing the oil, the resulting product is filtered at least three more times to maintain the highest quality and purity of the oil. Filling into consumer packages takes place directly in Morocco and there is no intervention on our part in the final product.