Extra virgin argan oil is pressed from the first fruits of the Argan nut. This very rare and extremely valuable oil is 100% natural organic substance without preservatives.
Due to its strong regenerative, healing, anti-inflammatory and antibacterial effects, it is also called liquid gold or Moroccan gold. Berbers have been using argan oil for centuries in cooking, healing, and for cosmetic purposes.
It contains 80% of essential unsaturated fatty acids, especially Omega 9 and Omega 6. Argan oil has several times higher antioxidant potential than olive oil. Contains carotenoids, phytosterols and squalene.
Argan oil is also characterized by an unusually high amount of vitamins A, E and F. The almost miraculous effects of this exclusively natural product contribute to good health and protect the skin from the harmful effects of a polluted environment.
It is made from the roasted kernels of the fruits of the argania spinosa tree, the kernels are roasted at a constant temperature to soften the bitter taste of the fruits, resulting in a pleasant nutty taste of food-grade argan oil.
The oil is roasted without losing vitamins and active substances. Due to its composition and taste, it is irreplaceable in gastronomy and gives dishes a delicate nutty-sweet taste.
Composition of food-grade argan oil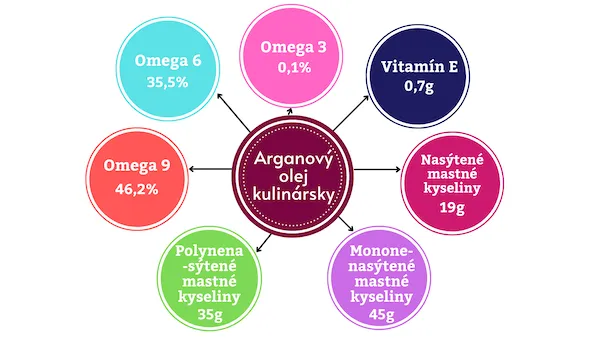 Argan oil quality guarantee:
Argavel argan oil by Orient House was produced in the south of Morocco in the area where argania spinosa trees grow freely. The Errais family company, which was carefully selected for this purpose on the basis of its experience, extraordinary conscientiousness and the high quality of its natural oils, produces argan oil in organic quality from the original variety of trees exclusively by cold pressing from selected fruits of the argania spinosa tree.
Argania spinosa trees have never been bred, genetically modified and no fertilizers or sprays have been applied. The oil contains no dyes, preservatives, parabens, animal products, petroleum derivatives, solvents, silicones, and no animals were used in its production and the oil was not tested on animals.
All ORIENT HOUSE products meet the safety requirements specified in the European Parliament and Council Regulation (EC) No. 1223/2009 on cosmetic preparations and products.
NOTICE:
REGULATION OF THE EUROPEAN PARLIAMENT AND OF THE COUNCIL (EU) no. 1924/2006 on nutrition and health claims forbids labeling the health effects of the product on products and places where the products are sold (e-shop). Therefore, according to this regulation, no other nutrition and health claims can be assigned to any food other than those permitted.
All information on nutritional and health claims listed on our website is only a set of information freely accessible from domestic and foreign sources and under no circumstances is it proof of the actual effect of the product or its nutritional and healing effects. If the consumer wants accurate information supported by professional and scientific studies, it is important to get familiar with it through all available professional sources.
Additional information
| | |
| --- | --- |
| Category: | Culinary argan oil |
| Composition ( INCI ): | 100% Argania spinosa kernell oil |
| Country of origin: | Morocco |
| Method of production: | cold pressing |
| Made of: | fruits of argania spinosa |
| Volume: | 250ml |
| Packaging: | glass, funnel |
| Certificates: | ecocert, food inspection SR |
| Determination: | internal use |
vitalita organizmu
posilnenie imunity organizmu
doplnenie vitamínov
na pitie
na šaláty
na hrianky
studená kuchyňa
vhodný aj pre zvieratá
Alžbeta , 13.12.2013 7:54.02
mne arganový olej veľmi pomohol pri znížení cholesterolu
orienthouse, 16.5.2012 21:19.45
Mám 77 rokov a doteraz som mal veľmi veľké problémy s vysokým tlakom, rodina mi poradila arganový olej potravinársky a asi po týždni pravidelného užívania sa mi tlak upravi, olej používam stále, ale už iba jednú lyžičku pred jedlom ráno a večer, upravil sa mi tlak a tep