Did you know?
Argan oil contains 2-3 times natural vitamin E, more than any other natural source.
Extra virgin argan oil is pressed from the first fruits of the Argan nut. This very rare and extremely valuable oil is 100% natural organic substance without preservatives.
Due to its strong regenerative, healing, anti-inflammatory and antibacterial effects, it is also called liquid gold or Moroccan gold. Berbers have been using argan oil for centuries in cooking, healing, and for cosmetic purposes.
It contains 80% of essential unsaturated fatty acids, especially Omega 9 and Omega 6, which are irreplaceable for growth, healthy human development and brain activity. Argan oil has several times higher antioxidant potential than olive oil. It contains carotenoids, phytosterols and squalene, which prevents excess cholesterol formation.
Research shows that argan oil improves cell regeneration, helps against infections and colds, reduces inflammation, stimulates blood circulation, reduces cholesterol levels, the risk of cardiovascular disease, heart attack, and also the risk of some types of cancer. It is suitable for diabetics/ lowers the blood glucose level/, strengthens the immune system and has a beneficial effect on the skin and hair.
Argan oil is also characterized by an unusually high amount of vitamins A, E and F. The almost miraculous effects of this exclusively natural product contribute to good health and protect the skin from the harmful effects of a polluted environment.
natural vitamin E - alpha-tocopherol - fat-soluble vitamin. It is a strong antioxidant, protects against the effects of free radicals, helps maintain the optimal level of essential fatty acids and vitamin A in the skin. In the epidermis, it creates a barrier against the evaporation of moisture from the skin, prevents cellular aging caused by oxidation, supports cell nutrition and strengthens vascular walls. Significantly reduces inflammation and scarring. Argan oil contains 2-3 times more natural vitamin E than any other natural source.
natural carotenoids - vegetable pigments soluble in fats, protecting eyes and skin from UV radiation and the action of free radicals. They strengthen the immune system, help maintain healthy skin and inhibit the growth of cancer-causing cells,
unsaturated fatty acids - a person obtains them only through diet or skin. They are building materials necessary for the good functioning of cell membranes, they are important for maintaining healthy skin and prevent moisture loss and premature aging.
natural phenols and phenolic acids
squalene
Protects against UV radiation
It slows down skin aging and restores its elasticity
It is easily absorbed, does not leave a greasy feeling
Nourishes the hair fiber - acts against hair loss
Strengthens brittle nails
It soothes inflammation and softens the manifestations of eczema, acne and psoriasis
It accelerates the healing of wounds and softens significant scars
Excellent for men after shaving on sensitive and irritated skin
Use of cosmetic argan oil
for skin, nails, hair and massages:
Compared to other natural substances, argan oil contains 2-3 times more natural vitamin E, which acts against cell aging, increases skin elasticity, prevents the formation of wrinkles and gives the skin natural shine and suppleness. It contains carotenoids, which protect the skin from UV radiation and inhibit the growth of cancer-causing cells, which is why it is also used as a substitute for sunscreens.
It soothes inflammation and softens the manifestations of eczema, acne and psoriasis. Massage the oil into your hair, let it act for approx. 1 hour. and rinse with warm water. Prevents hair loss. Suitable for massages and in the treatment of rheumatism, it reduces the possibility of arthritis.
Suitable for pregnant women and babies:
During pregnancy, expectant mothers face the same problem. As the belly grows, the skin stretches and often cracks, creating painful sores that leave permanent aesthetic damage. It is important to use chemical-free products during pregnancy.
Argan oil is an exceptional product that, with regular use, very effectively helps prevent painful cracks and permanent damage to the skin in the abdomen and décolleté area. It is suitable not only during pregnancy, but also after it. By regularly applying argan oil, stressed skin will return to its original state more easily.
After giving birth, the mother will use it when massaging her baby. The oil nourishes the baby's skin and protects it from drying out and the harmful effects of the surrounding environment.

Argan oil quality guarantee:
Argavel argan oil by Orient House was produced in the south of Morocco in the area where argania spinosa trees grow freely. The family company Errais, which was carefully selected for this purpose based on its experience, extraordinary conscientiousness and the high quality of its natural oils, produces argan oil in organic quality from the original variety of trees exclusively by cold pressing from selected fruits of the argania spinosa tree.
Argania spinosa trees have never been bred, genetically modified and no fertilizers or sprays have been applied. The oil contains no dyes, preservatives, parabens, animal products, petroleum derivatives, solvents, silicones, and no animals were used in its production and the oil was not tested on animals.
All ORIENT HOUSE products meet the safety requirements specified in Regulation of the European Parliament and Council (EC) No. 1223/2009 on cosmetic preparations and products.
Additional information
| | |
| --- | --- |
| Category: | Cosmetic argan oil |
| Composition ( INCI ): | 100% Argania spinosa kernell oil |
| Country of origin: | Morocco |
| Method of production: | cold pressing |
| Made of: | fruits of argania spinosa |
| Volume: | 50ml |
| Packaging: | glass, dispenser, box |
| Certificates: | ecocert, safety assessment SR |
| Determination: | hair, skin, body, nails, wrinkles, stretch marks, skin problems, bath, massages, eczema, acne, face |
for wrinkles
slows down skin aging
skin hydration
after shaving on sensitive and irritated skin
substitute for creams
scars, eczema
psoriasis
problematic skin
acne
accelerates the healing of skin wounds
relieves inflammation
massages
stretch marks
hair loss
dandruff
broken hair
split ends of hair
hair fiber nutrition
skin nutrition
strengthens brittle nails
treats the nail bed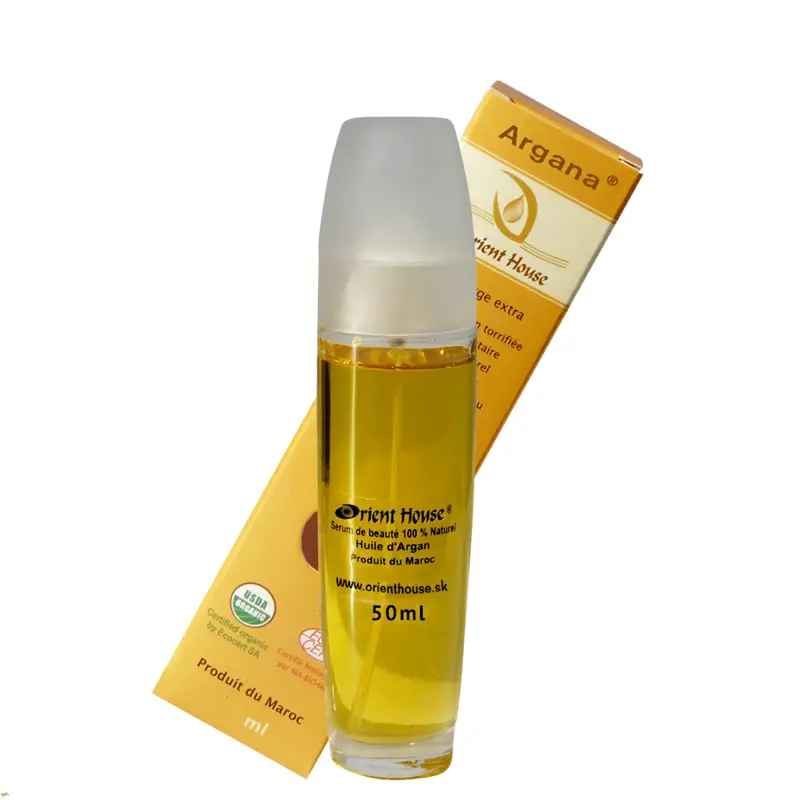 Argan oil cosmetic organic 50ml