Olej z pšeničných klíčkov obohatený o vitamíny. Jedná sa o jeden z najtučnejších olejov.
Vďaka tomu je nepostrádateľnou zložkou zmesí na ošetrenie veľmi suchej a mastnej pokožky, vlasových zmesí – pre všetky typy vlasov, vďaka čomu sú elastické a zdravé.
Vitamíny A a D regulujú rast buniek a zvyšujú odolnosť pokožky. Vitamín F (kyselina linolová) sa podieľa na tvorbe bunkových membrán, zvyšuje elasticitu vlasov a odolnosť nechtov. Normalizuje funkcie mazových žliaz. Vitamín E je silný antioxidant, ktorý má veľký vazodilatačný účinok.
Additional information
| | |
| --- | --- |
| Category: | 100% natural oils |
| Country of origin: | Bulgaria |
| Method of production: | cold pressing |
| Volume: | 30ml |
| Packaging: | glass, box |
| Determination: | hair, skin, body |
Olejový zábal:
Pre všetky typy vlasov – pokožka hlavy sa natrie olejom z pšeničných klíčkov, predhriatym vo vodnom kúpeli. Olejový zábal nechajte pôsobiť 2 hodiny.
To pomáha odstrániť lupiny a vlasy prestanú byť krehké. Po olejovom zábale sa vlasy umyjú neutrálnym alebo liečivým šampónom vhodným pre váš typ vlasov.
Pre pokožku:
Klíčkový lecitín a alfa-tokoferol chránia bunky pred toxickými účinkami voľných radikálov, a to: hrajú dôležitú antioxidačnú úlohu proti starnutiu pokožky. Zvyšujú tonizáciu pleti a majú protizápalové účinky.
Olej sa používa ako základný masážny olej na veľmi suché vlasy a mastnú pokožku. Dostupné v kompozíciách, ktoré sú zamerané proti tvorbe strií a relaxácii pokožky.
Dátum spotreby: 15/08/2025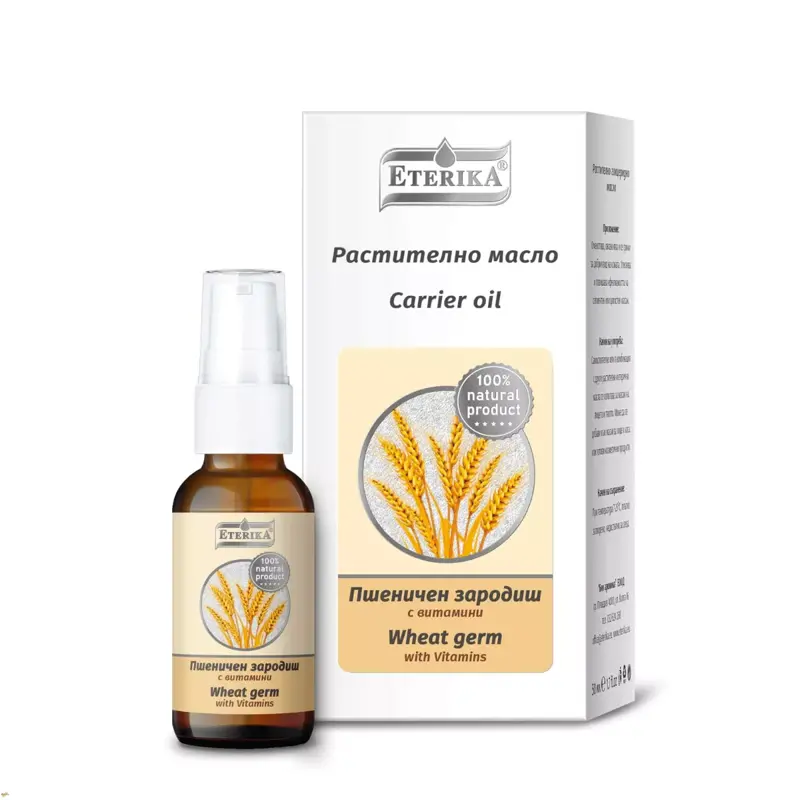 100% Olej z pšeničných klíčkov s vitamínmi 30ml