Argan oil contains 2-3 times natural vitamin E, more than any other natural source.
Extra virgin 100% organic argan oil, which is made by pressing selected first fruits from the argania spinosa tree. This very rare, pure and extremely valuable organic oil is a 100% natural organic substance without preservatives. Damask rose is macerated in 100% organic argan oil after pressing, creating a unique combination of argan oil and rose.
Argan oil is also called "liquid or Moroccan gold" precisely because of its strong regenerative, healing, anti-inflammatory and antibacterial effects. Berbers and the inhabitants of Morocco have been using argan oil for centuries in cooking, healing, for cosmetic purposes and in the care of hair, skin and the skin of the whole body.The oil is used by ladies and gentlemen, regardless of age.
It contains 80% of essential unsaturated fatty acids, especially Omega 9 and Omega 6, which are irreplaceable for growth, healthy human development and brain activity. Argan oil has several times higher antioxidant potential than olive oil. Contains carotenoids, phytosterols and squalene.
Research shows that original Moroccan organic argan oil improves cell regeneration, helps against infections and colds, relieves inflammation, stimulates blood circulation, strengthens the immune system and has a beneficial effect on the skin and hair.
Argan oil from Morocco is also characterized by an unusually high amount of vitamins A, E and F. The almost miraculous effects of this exclusively natural product contribute to good health and protect the skin from the harmful effects of a polluted environment.
Argavel argan oil by Orient House was produced in the south of Morocco in the area where argania spinosa trees grow freely. The family company Errais, which was carefully selected for this purpose based on its experience, extraordinary conscientiousness and the high quality of its natural oils, produces argan oil in organic quality from the original variety of trees exclusively by cold pressing from selected fruits of the argania spinosa tree.
Argania spinosa trees have never been bred, genetically modified and no fertilizers or sprays have been applied. The oil contains no dyes, preservatives, parabens, animal products, petroleum derivatives, solvents, silicones, and no animals were used in its production and the oil was not tested on animals.
All ORIENT HOUSE products meet the safety requirements specified in Regulation of the European Parliament and Council (EC) No. 1223/2009 on cosmetic preparations and products.
Additional information
| | |
| --- | --- |
| Category: | Argan oil with rose |
| Composition ( INCI ): | 100% Argania spinosa kernell oil |
| Country of origin: | Morocco |
| Method of production: | cold pressing |
| Made of: | fruits of argania spinosa |
| Volume: | 100ml |
| Packaging: | glass, dispenser, box |
| Certificates: | ecocert, safety assessment SR |
| Determination: | hair, skin, body, nails, wrinkles, stretch marks, skin problems, bath, massages, eczema, acne, face |
for wrinkles
slows down skin aging
skin hydration
after shaving on sensitive and irritated skin
substitute for creams
scars, eczema
psoriasis
problematic skin
acne
accelerates the healing of skin wounds
relieves inflammation
massages
stretch marks
hair loss
dandruff
broken hair
split ends of hair
hair fiber nutrition
skin nutrition
strengthens brittle nails
treats the nail bed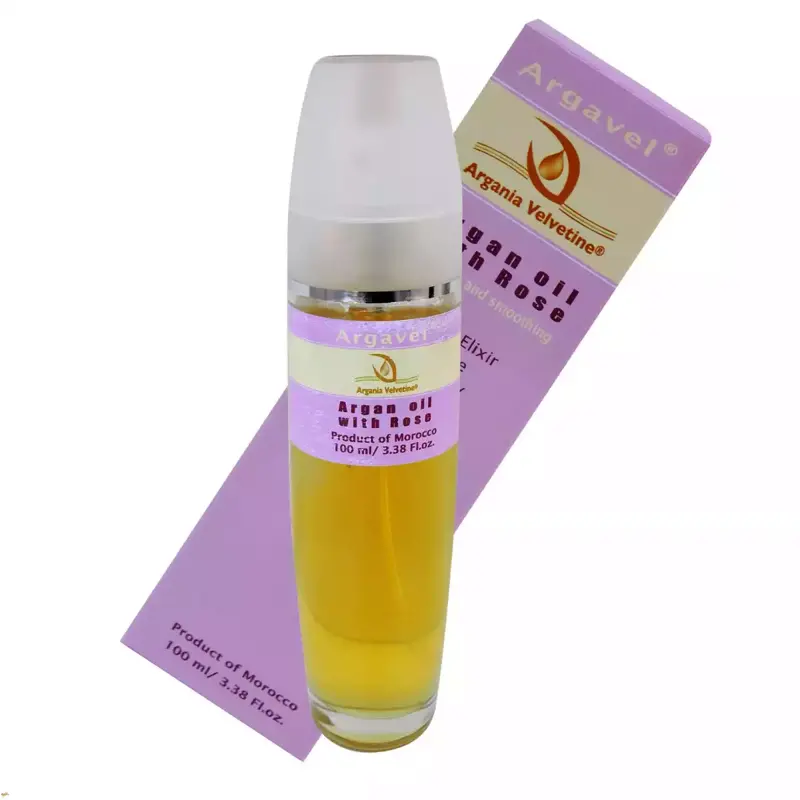 Organic cosmetic argan oil with rose 100ml