Zloženie: Obsahuje kyselinu olejovú, kyselinu linolovú a nasýtené kyseliny – kyselinu palmitovú, skvalén v minimálnom množstve, tokoferol a vitamíny A, E, F a D-pantenol. 100% prírodný produkt bez konzervantov.
Mandľový olej sa získava lisovaním orieškov sladkých mandlí s následnou rafináciou.
Vitamíny A a D-pantenol sú regulátory rastu buniek a zvyšujú odolnosť pokožky. Vitamín D-pantenol stimuluje bunkový metabolizmus a regeneruje. Vitamín E je veľmi dobrý antioxidant.
Vitamín F sa podieľa na stavbe bunkových membrán, zvyšuje elasticitu pokožky a lesk vlasov, reguluje činnosť mazových žliaz.
Additional information
| | |
| --- | --- |
| Category: | 100% natural oils |
| Country of origin: | Bulgaria |
| Method of production: | cold pressing |
| Volume: | 50ml |
| Packaging: | glass, box |
| Determination: | hair, skin, body |
Doplnok masky na vlasy:
Pridajte 1 polievkovú lyžicu mandľového oleja obohateného vitamínmi do zvolenej masky na vlasy. Masážnymi pohybmi sa zmes vtiera do korienkov vlasov. Potom sa rozotrie po celej dĺžke vlasov. Nasaďte si jednorázovú ochrannú čiapku a uterák na 2 hodiny. Vlasy sa umyjú teplou vodou s vhodným šampónom. Pre lepší efekt sa maska používa raz týždenne.
Masáž:
Do 50 ml mandľového oleja s vitamínmi pridajte 10 kvapiek preferovaného esenciálneho oleja – relaxačný, analgetický, tonický olej a iné prírodné oleje.
Dátum spotreby: 15/06/2025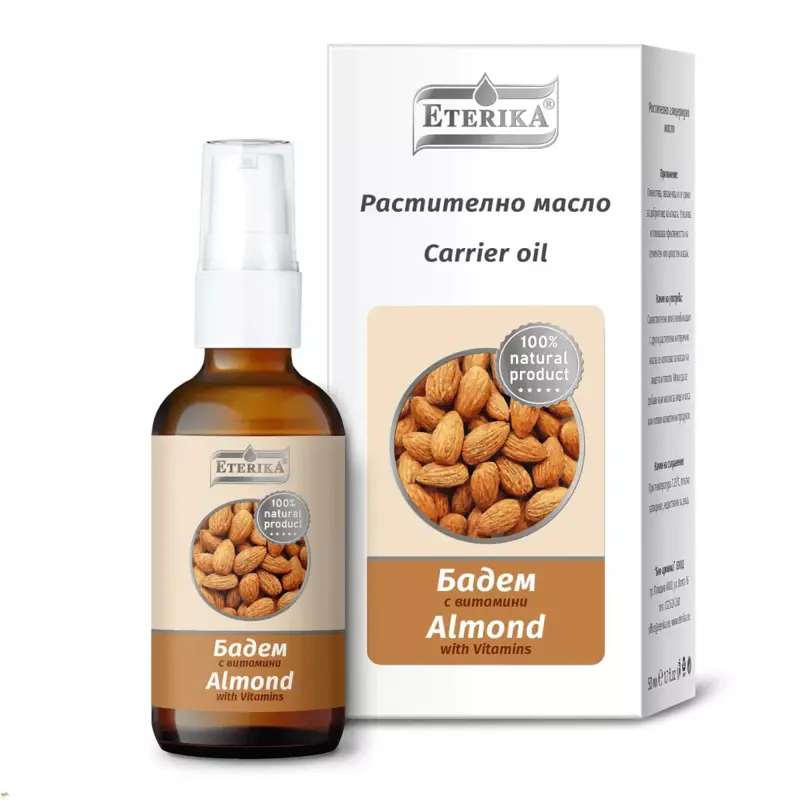 100% Mandľový olej s vitamínmi 50ml